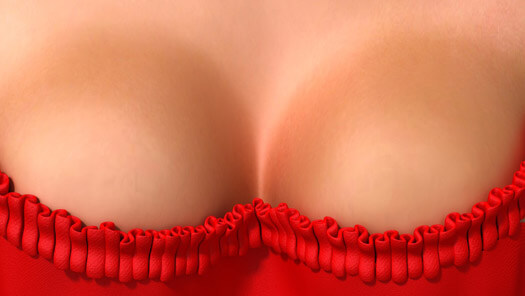 I know that breasts are an important part of your feminine transformation.
But perhaps you are wondering…
Is it even possible? Can genetic males REALLY grow feminine breasts?
The answer is yes. It all comes down to two basic biological truths:
Males and females are born with the exact same breast anatomy.
Breast growth is triggered by hormones.
Why do females develop breasts? It's because their bodies produce hormones during puberty that trigger breast growth.
Males produce testosterone, which prevents these changes from occurring.
However, if a male's estrogen/testosterone balance is tipped in the opposite direction, breast growth can occur at any age.
There is nothing difficult or unusual about this. In fact, it's so common that many males suffer from unwanted breast enlargement – or gynecomastia – due to aging, health conditions, medication, steroids, or drugs.
One study even found a link between male breast enlargement and soap that contains tea tree oil or lavender.
Transgender hormone replacement therapy (transgender HRT) is one option for breast growth. But if you don't want to take synthetic hormones, phytoestrogenic herbs can be an effective alternative.
Phytoestrogens are natural plant chemicals that mimic the effects of estrogen. There are hundreds of reports in medical and scientific journals documenting their effects. (Check out this About.com article for a good, unbiased look at phytoestrogens.)
Phytoestrogenic herbs are traditionally used to balance hormones in women, reduce PMS and menopause symptoms, increase fertility, and help with pregnancy and breastfeeding.
And since phytoestrogens increase your estrogen level, they can also stimulate breast growth in males and transgender females.
The most effective phytoestrogens for male to female breast enhancement include:
fenugreek
fennel
wild yam
red clover
pueraria mirifica
You can find these herbs online or in any health food store.
To get started, choose one or two phytoestrogenic herbs and take them according to the instructions on the label. (Note: Talk to your doctor before using herbs if you have health concerns or are on medication, including hormones.)
Many people see results within a month, so give it a try and then come share your results in our forum!
P.S. If you enjoyed this article, you will love The Flat to Femme Program.
This comprehensive program reveals everything you need to know to know about male to female breast enhancement – so you can get the feminine curves you've been waiting for.